Mens Shoes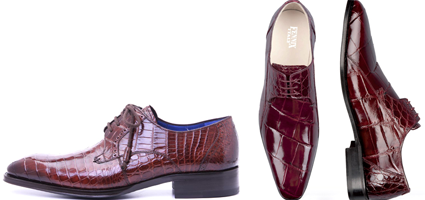 Some folks say shoes pave the path to a man's soul while others prefer wearing their hearts on their soles—this shoe philosophy holds true only when you are shopping for the best in men's footwear at Arrowsmith Shoes!
Good shoes are the foundation to a man's wardrobe. Shoes can be creative, blingy, expressive, classic, or plain boring. What separates one shoe collection from the other is a passion to identify and buy the best in leather footwear. This collection is curated for the discerning buyer, for people who take pride in grooming themselves. From classic lace-ups to oxfords that can never go wrong to boat shoes with relaxed vibes, we have put together an interesting collection. Whether you seek comfort in traditional dress shoes or want to experiment with emerging trends in club shoes, we have you covered—retro-inspired, vintage-aura, brazenly modern, strictly formal and radical shoe styles!

Shoes have evolved in tune with changing lifestyle choices. Some designs are highly thoughtful while some have an evergreen sense of style. While sandals and slip-ons reign supreme when you seek relaxation, sneakers cater to your athletic, outdoorsy pursuits. Comfort shoes are about cocooning your feet while monkstraps are the final touch to your formal attires

Arrowsmith Shoes brings you a chance to choose from the best of handmade leather shoe brands. We try to create the perfect balance of leather shoes with a rich history of fine shoe-making to labels that have used technical innovation. From heritage brands that have made a mark in men's footwear history to boutique brands that don't have global presence, we search for perfectly crafted shoes. Expect an exclusive selection of the finest in men's shoes, including footwear brands like Belvedere, Mezlan, Florsheim, Stacy Adams, Steve Madden, Sebago, Giorgio Brutini and more

Versatility with an eye on exclusivity – you find this across our handpicked collection which is groomed constantly. Shop from wardrobe staples like leather loafers to must-indulge selection of exotic skin shoes. You get a wide range of premium animal skins, shoe-making styles, brand-specific designing traits, colors, textures, and unique interplay of different materials. From earthy-brown colors to tanned brown hues and bright colors, you get plenty of options with shoes that are aesthetically superior and promise absolute comfort. If there is a pair of impressive handcrafted leather shoes worthy of finding a place in your wardrobe, you are most likely to find it here!
Every Shoe Tells a Story but Great Tales are Made at Arrowsmith Shoes!