Posted by Arrowsmith Shoes on Apr 14th 2020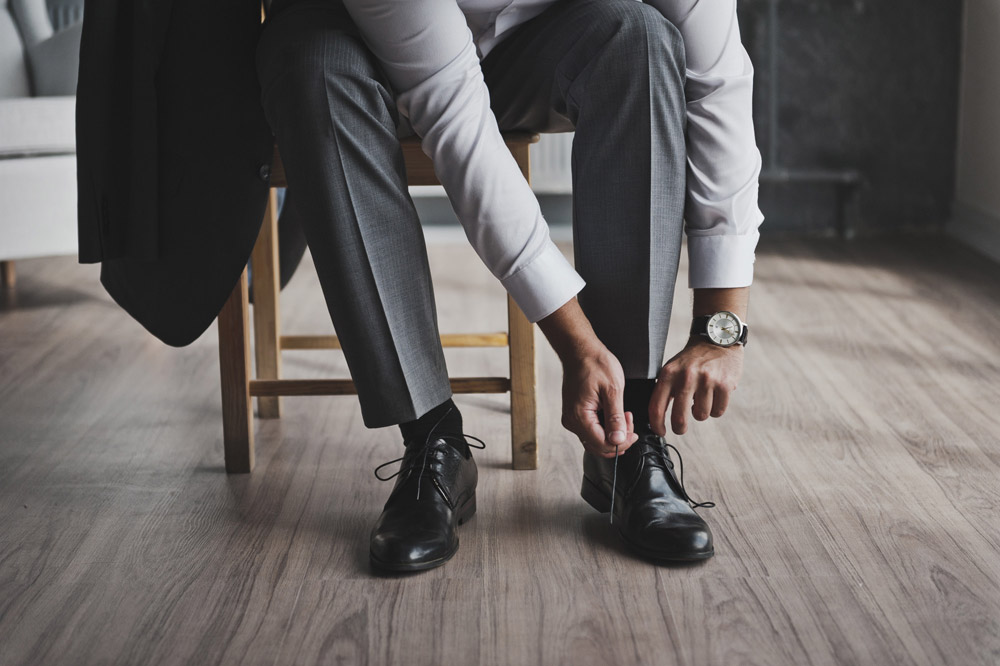 According to recent statistics, the average man owns about 12 pairs of shoes. While some men only have the practical essentials- a pair of lace-ups for work and a pair of casual sneakers - most have various footwear that can be used to express themselves on many different occasions.
This means that if you're a man who loves to pair shoes with outfits, there's nothing to be ashamed of. You're far from alone. The only thing you need to worry about is having all the shoes every man should own in your wardrobe.
Read on to learn what these shoes are and how you can get them at an affordable price!
For Formal Dress
Whether for your daily life at the workplace or for formal dates and nights out, every middle-aged man needs a few different pairs of professional shoes in his closet. Read on to learn more about these styles before you get shopping!
1. Slip-On And Penny Loafers
Loafers are possibly the most essential shoes in any man's wardrobe. They're the perfect footwear for a day at the office. Comfortable, versatile, and stress-free, loafers are easy to put on and provide a lot of support for aching feet.
You can get these classic shoes in a wide variety of colors and styles. This means that there's definitely something out there that's just waiting to be paired with your favorite suit, so do your research and find a pair that suits you.
2. Oxfords And Lace-Ups
You'll also need a pair of lace-up shoes for your wardrobe. Loafers are amazing and easy to slip onto your feet, but sometimes you just need something that offers a little bit of additional support. Oxford and lace-up styles will tie tightly around your feet to ensure that they don't slip off in the middle of a business meeting you're running.
Lace-up shoes are perfect for those who do a little more walking around the office. While they aren't athletic shoes by any means, they do provide the support you'll need while wandering around talking to and checking up on employees.
3. Dress Boots
If you want to get funky, you definitely need a pair of dress boots for your closet. While these aren't necessarily appropriate for the workplace, they're perfect for formal parties and events where you want to show off your unique flair.
Square-toed boots are all the rage right now, as are those that cover the calf. We have styles that combine both of these trends into one amazing boot. Our boots also offer leather soles and lining to ensure that they're long-lasting and high-quality.
For Casual Situations
Despite the importance of professional situations, all work and no play makes any man a dull boy. That's why you'll need a few awesome and comfortable pairs of shoes for any and all casual occasions. Read on to learn what some of the best shoes are for a night on the town or a day at the golf club.
4. Italian Nappa Soft Deerskin Leather
As age begins to catch up with you, so do aches and pains. This is especially the case for your feet. Because you stand and walk for the greater portion of the day, you'll want something comfortable to soothe foot pain that comes with a more active lifestyle.
Italian Nappa soft leather is the perfect material for doing this. Not only does deerskin leather look amazing and tasteful, but our favorite styles have additional features for added comfort.
Mezlan Ojai soft deerskin slip-ons, for example, have built-in memory foam cushions. They also have contour rubber soles to ensure that the spring stays in your step.
5. Ostrich Patch Casual Shoes
Deerskin leather is comfortable and stylish, but ostrich leather is arguably even more so. With a leather lining and cushioned insole, our Ostrich Patch casual shoes are handmade in North America and delivered to your doorstep with care.
When it comes to first dates or boy's nights out, there's nothing quite like ostrich skin to take care of your feet. When you wear carefully designed shoes made from this soft and co mfortable material, you're sure to be ready to go all night long.
6. Los Altos Caiman And Ostrich Skin Sneakers
Sneakers are essential for every man's wardrobe. What else would you wear for a day at the golf club or on the tennis court?
In order to have fun during your athletic experiences, you're going to want wear-and-tear-resistant shoes that don't cause your feet to hurt after a while. This makes caiman and ostrich skin sneakers the perfect footwear for you. These shoes are long-lasting and will take care of your feet so that you can keep your head in the game.
7. Driving Shoes
Every man on the go needs a pair of driving shoes in addition to other casual styles. As the name implies, they're perfect for driving long distances. The shape, size, and feel of these shoes is bound to make you feel like an expert at the wheel, which builds the confidence to stay safe on the road (or the golf course.)
You'll want to pair your driving shoes with clothes that are both relaxed and elegant. This means slim jeans and chino shorts are your friend when fashioning a cohesive outfit that features your driving shoes. Experiment with different styles and have fun!
Buy The Shoes Every Man Should Own
While there are a lot of awesome trending men's shoes on the market, you can't go wrong with classic professional styles.
Now that you know the shoes every man should own, it's time to begin picking out your favorite pairs. Click here to register for an account with us before you begin shopping. When you do, you'll be able to save items to your wishlist, check out more quickly than other guests, and track new orders.
Stay stylish and comfortable!